International Network for Sustainable Financial Policy Insights, Research and Exchange
Driving a global, purpose-driven research agenda for greening the financial system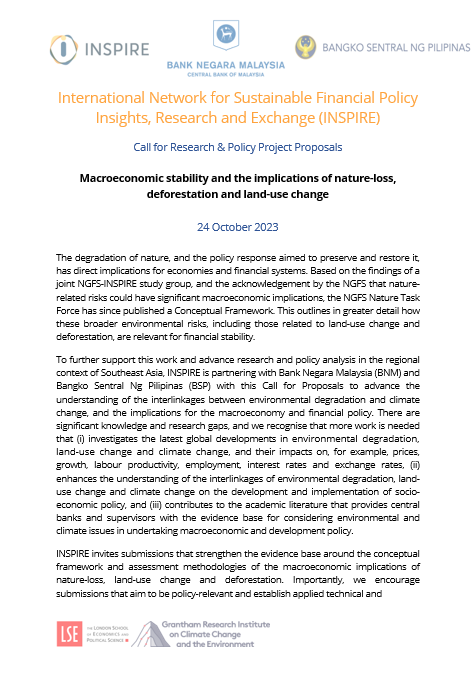 Call for Research and Policy Project Proposals
Macroeconomic stability and the implications of nature-loss, deforestation and land-use change
INSPIRE is partnering with Bank Negara Malaysia (BNM) and Bangko Sentral Ng Pilipinas (BSP) with this Call for Proposals to advance the understanding of the interlinkages between environmental degradation and climate change, and the implications for the macroeconomy and financial policy. There are significant knowledge and research gaps, and we recognise that more work is needed that (i) investigates the latest global developments in environmental degradation, land-use change and climate change, and their impacts on, for example, prices, growth, labour productivity, employment, interest rates and exchange rates, (ii) enhances the understanding of the interlinkages of environmental degradation, land-use change and climate change on the
Explore Details
INSPIRE's Activities
Through commissions, funding, and partnerships, INSPIRE's work aims to catalyse sustainable finance by developing climate- and environment-related financial risk management in order to mobilise the finance needed to support the transition to a sustainable economy.
3 programmatic workstreams
Certain aspects of climate change and environmental degradation that require urgent action by financial institutions are especially complex and require a coordinated, inter-disciplinary, and multi-stakeholder approach.
INSPIRE's research programmes convene researchers and central bank partners from across the globe to collaboratively tackle specific priorities.
35 commissioned projects
Through open calls for proposals, INSPIRE commissions research to advance understanding of the appropriate tools, methodologies, and empirical and theoretical evidence required to enhance ambition to advance the sustainable financial policy agenda.
INSPIRE's portfolio is organised into six thematic areas that have been purposefully designed to complement the NGFS's 4 workstreams and 2 taskforces.
What is INSPIRE?
INSPIRE is an independent and global, philanthropy-supported research network that provides gold-standard research and insights on financial oversight of climate- and environment-related risks.
The network is a designated research stakeholder of the Central Banks and Supervisors Network for Greening the Financial System (NGFS).